Visitors love Benidorm because it is either sunny or sunny. This is partly because Benidorm is protected by the Sierra Helada mountain range and, as a result, the weather is mild and sunny all year round. The town actually enjoys 300 days of sunshine each year with an average annual temperature of nineteen degrees Celsius.
Glorious year-round temperatures
In the Winter, daytime temperatures rarely fall below 10ºC and it can even be warm enough to sunbathe. In July and August the average temperature is around 30ºC but it can reach 40ºC in the middle of the afternoon. It also tends to be fairly humid in the summer.
The average monthly temperatures for Benidorm are listed below in degrees Celsius: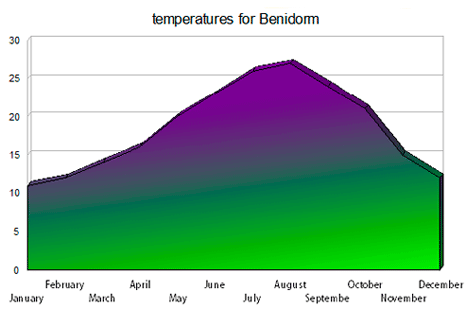 Rain (not likely)
There is not much rainfall but what there is tends to fall during the winter. And when it does rain, it tends not to last for very long. In the Summer there is hardly any rain at all.
Stay safe in the sun
Don't forget this is a "hot" country. So, when visiting Benidorm you are advised to try and stay out of the sun between 12 noon and 3pm and to apply sun cream continually when out during the day to risk burning.